Could this be the end of Apple's Lightning cable?
Since it was introduced more than 10 years ago to replace your old-school 30-pin charging cable, Apple's Lightning connector has reigned supreme among the tech giant's devices, becoming the standardized port on all of the company's recent iPhones. However, Lightning isn't the only option out there for tech connections, even within Apple's own device families.
Lightning cable
By far the most popular alternative is the USB-C connector, which is used widely in both the U.S. and abroad and features prominently on almost all other major smartphone, tablet and computer models released in the past several years. It's reversible, charges quickly, and offers nearly identical benefits and performance to its Lightning counterpart. In fact, USB-C is even the compatible cable-and-port of choice on newer MacBooks and most iPads, leaving many users — including some of those loyal to Apple — to deal with two or more ports, cables and adapters for their daily tech needs.
But depending on how Apple responds to recent legal decisions, its proprietary Lightning connector may soon become a thing of the past.
What happened?
The potential death knell for the Lightning connector first came last summer, when lawmakers in the European Union passed a bill requiring all smartphones, tablets, cameras, laptops and virtually every other device to use the same universally compatible charging and connection technology: the USB-C.
Setting an enforcement date of December 28, 2024, the EU legislation was finalized after more than a decade of negotiations over the "common charger" law that's designed to enhance user convenience in the long-run while also reducing e-waste, The Verge and other tech media reported.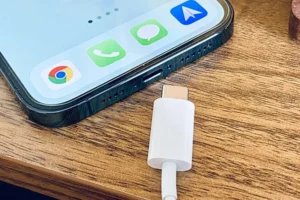 Then in December, India followed suit, passing legislation that requires all mobile devices to use the same type of connector port — the USB-C — by March 2025, according to Business Insider. (The Indian Bureau of Standards has since begun eyeing similar rules for wearable technology such as smart watches.)
And those two government decisions have indirectly given Apple, the largest single tech manufacturer that still makes devices with proprietary connection technology, an ultimatum: either start making iPhones, iPads and accessories with compliant USB-C ports in the next couple of years, or stop selling them in two of the world's largest consumer markets.
What comes next?
At the most, Apple has roughly two years to make its next move, and it really only has three options: 1., stop selling its Lightning-based devices in Europe and India; 2., create special USB-C versions of them to only sell in those two markets; or 3., overhaul its iPhones and other devices to include USB-C technology worldwide, including where no such laws are in effect.
The problem for the Lightning connector's future is that neither of those first two options makes much economic sense. Apple would stand to lose millions of dollars in sales alone if it pulled out of both the European and Indian markets, and creating two otherwise identical smartphone line-ups with different types of connection ports hardly makes manufacturing any easier.
More than likely, iPhone users will be facing a situation similar to the 30-pin-to-Lightning switch that happened with the introduction of the iPhone 5 in 2012: a temporary inconvenience that'll result in some old technology lingering for a few years, but eventually, a near-universal abandonment of the former connector.
This prediction is bolstered by the fact that Apple itself has already embraced USB-C technology; it's now the standard connector on all MacBook laptops and most iPad models. But with no official announcement from the California-based company as of yet, all we can do to forecast the Lightning cable's future is wait and see.